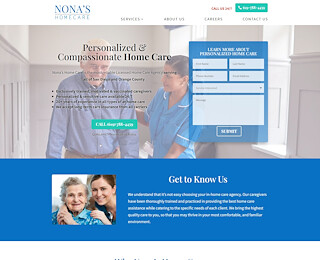 In Home Care in San Diego for Seniors
Check with Nona's Homecare, a trusted local service provider, when you need senior caregiving services at home. Our team of compassionate caregivers is dedicated to providing high-quality in-home care that meets the unique needs and preferences of each client we serve.
Whether your loved one needs assistance with daily activities such as bathing, dressing, or meal preparation, or simply needs someone to keep them company and provide companionship, we have the experience and expertise to offer the in home care they need. Our in-home caregivers are trained in best practices in senior care, and work tirelessly to create a personalized care plan that will help your loved one live their best life.
At Nona's Homecare, we know how important it is for seniors to feel connected to their local community. That's why we focus on providing in home care that is tailored specifically to each client's unique needs and preferences. We believe in treating our clients with the dignity and respect they deserve, and always strive to go above and beyond in our services.
What's Included with In Home Senior Care?
At Nona's Homecare, we offer a wide range of in home care services to meet the varied needs of our clients. Some of the services we provide include:
-Assistance with daily activities such as bathing, dressing, meal preparation, and more
-Companionship and social stimulation for seniors who may be feeling lonely or isolated
-Transportation to appointments and other important events in the community
-Medication reminders and management
-Alzheimer's care and other dementia care services
With in home care from Nona's Homecare, you can enjoy all the same benefits and comforts of staying in your own home without having to worry about taking care of yourself or managing your day-to-day tasks. Whether you need help with daily activities like cooking, cleaning, and laundry, or more specialized services like transportation assistance, medication management, and even dementia care, our experienced caregivers are here to help.
Is Senior Home Care Right For Your Situation?
If you're considering in home care in San Diego for your loved one, there are a few factors to consider in order to determine if in home care is the right choice for your situation. Some of these factors may include:
-The overall health and well-being of your loved one
-Their ability to perform daily activities on their own, or with minimal assistance
-Whether they live alone or with other family members
-Their social needs and preferences in terms of companionship and social stimulation
At Nona's Homecare, we pride ourselves on delivering personalized in home care that meets the unique needs of each and every one of our clients. Our flexible services can be tailored to fit your schedule, budget, and preferences, so you can rest easy knowing that the quality of care in your home is in good hands.
So if you're looking for in home care in San Diego for seniors, trust the experts at Nona's Homecare. To learn more about our services or to get started with a free in-home assessment, contact us today!