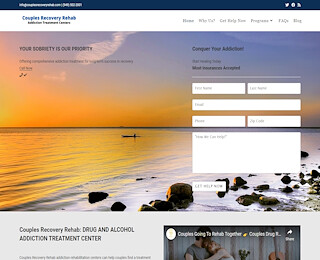 Couples Recovery Rehab is one of the preeminent  rehab centers for couples in Orange County, CA, with an array of advanced treatments and evidence-based therapies. As a leading treatment center for drug and alcohol addiction, we focus on identifying and addressing the underlying causes of substance abuse disorder in couples.
What makes us the best drug rehab facility for couples?
We are an exclusive couples drug rehab center in California, and our programs focus on identifying and addressing the causes of addiction for reliable recovery. Here are some of the qualities that set us apart from other couples rehab programs:
We offer an impressive range of treatment options for couples, such as inpatient detox and rehab, outpatient rehab, dual diagnosis treatment programs, evidence-based therapies, and partial hospitalization programs.
Our rehab facility offers residents upscale infrastructure, comfortable accommodations, and modern amenities such as semi and fully private rooms, a gym, access to a spa and saloon, television streaming services, etc.
We keep our recovering addicts entertained, relaxed, and occupied at all times by conducting an array of recreational events like movie nights, gaming parties, and weekly facility activities
We offer home-like love and support to our patients in a resort-like facility with daily catered meals and wellness programs like yoga and meditation. 
As a highly sought-after couples rehab program in California, we have helped save many marriages from falling apart, while bringing a lot of people from the brink of self-destruction.
How does couples rehab work?
In general, drug rehab centers for couples follow an integrated behavioral couples therapy approach that focuses on restructuring the dysfunctional interactions between two people in an intimate relationship alongside helping one or both partners attain sobriety. At our couples drug rehab, we help both partners learn each other's triggers and teach them essential skills to tackle or avoid them.
Our experts educate both partners on spending quality time together without feeling the urge to succumb to alcohol or drugs. By encouraging open communication, we help spouses and partners work past their strained relationships and traumatic experiences, which often becomes the underlying cause of substance abuse in married or cohabiting couples. Couples addiction treatment at our rehab begins with medically supervised detox, followed by counseling, individual psychotherapies, and couples therapy, and ending with aftercare programs. Treatment can last 30 – 90 days depending upon addiction's severity, the presence of co-occurring mental health issues, substance abused, and a variety of other factors.
Our rehab treatment programs
As a leading couples rehab, we offer residential treatment, outpatient treatment, intensive outpatient program, and sober living programs for those looking to overcome addiction and resolve the conflicts in their relationship. Our client-centered drug rehabilitation treatment for couples focuses on the pain endured by the addicts' spouses and partners.
By engaging couples in medical detox, couples counseling, and 12-step couple recovery meetings, we help them rebuild mutual trust and encourage them to play an integral role in each other's journey towards sobriety. Contact Couples Recovery Rehab at (949) 502-2001 to speak with an addiction treatment specialist. Ranked among the top rehab centers for couples addiction treatment, we follow a holistic treatment approach and help patients attain comprehensive recovery from their physical and mental illnesses and emotional trauma.