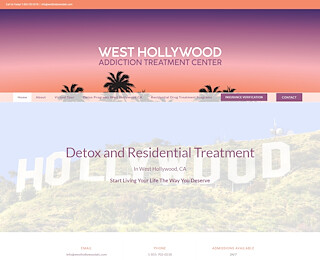 Are you searching for rehabs that offer suboxone detox in West Hollywood? Our clinical team at the West Hollywood Addiction Treatment Center uses Suboxone to reverse the side effects experienced by individuals battling an addiction to opioids, heroin, and prescription painkillers. Our suboxone detox can help you overcome the painful withdrawal symptoms and help you attain a safe recovery from opioid addiction.
Is Suboxone detox right for me?
Suboxone is a prescription medication that treats individuals addicted to opioids. The presence of buprenorphine and naloxone in Suboxone helps block the opiate receptors, reduces cravings, and reverses the effects of opioids in recovering addicts. Unlike methadone, Suboxone does not pose the risk of habit-forming, making it a highly preferred treatment medication for opioid addiction.
While Suboxone reduces the withdrawal symptoms, you need a personalized treatment plan from an addiction specialist in Los Angeles for comprehensive recovery from substance abuse disorder. Speaking to a suboxone doctor in West Hollywood, CA, can help you make an informed decision.
How is Suboxone administered?
As one of the leading detox program treatment centers in West Hollywood, CA, for Suboxone, we offer specific directions to recovering addicts for each dose. Patients have the option to take the medication in the form of a film or a tablet. If you wish to use the Suboxone film, you will have to place it under your tongue, where it will deliver the right amount of medicine as it dissolves. The tablet form of Suboxone is self-explanatory. You will take the medication in dosages as prescribed by your doctor.
If you choose suboxone films, it is important not to chew or swallow the film as it may render the medicine ineffective. Over time, your doctor may reduce or change the dosage to help you wean off suboxone medications altogether. Suboxone detox in Los Angeles alone cannot treat your substance abuse disorder. You must receive it alongside a comprehensive addiction treatment program to garner the best results in an inpatient setting.
How does Suboxone help addiction treatment?
Suboxone offers a long-term solution to individuals battling opioid addiction. We use it as part of a comprehensive treatment plan and administer the medication to eliminate the cravings and reduce the withdrawal symptoms' severity.
Suboxone is a depressant that slows down your system and offers pain relief, calmness, and relaxation. It also improves the overall wellbeing of recovering addicts and reduces their stress levels considerably during treatment.
What are the side effects of Suboxone?
While Suboxone is a predominantly safe drug when administered by a licensed physician in a treatment setting, it is important to remember that it can lead to dependence. Moreover, you must speak to your doctor first if you wish to discontinue the use of suboxone. Quitting the drug cold-turkey can cause adverse side-effects like joint or muscle pain, insomnia, dilated pupils, diarrhea, and irritability.
While Suboxone helps treat addiction, it is crucial to combine it with other recovery solutions for long-term sobriety. Contact West Hollywood Addiction Treatment Center at 855-969-9234 to get started on treatment. Our suboxone detox in West Hollywood can safely and effectively help you overcome your behavioral and mental health issues. Call us for a free consultation today!
West Hollywood ATC
855-622-6723
9024 Harratt St.
West Hollywood
CA
90069
US